Zion National Park is located in the heart of Southern Utah's

Color Country and is Utah's most popular national park. Zion
is home to breathtaking scenery and some of the most rugged, mountainous terrain in the West. While ATVs (all-terrain vehicle/4-wheeler) riding is not allowed within Zion Park
there are thousands of acres of private property located on high plateaus overlooking the Park's famous canyons. ATVs are the modern, mechanized horses that offer a new brand of adventure and the ability to go places that are difficult for even horses!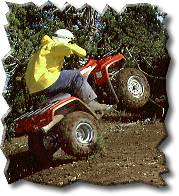 Zion Ponderosa Ranch Resort is an all-inclusive adventure resort located on the east rim of the Zion National Park. The Ranch is located high in the pines at nearly 6,500 feet above sea level, on the east plateau overlooking the Park. Surrounded by a forest of ponderosa pine, pinion pine, juniper, and wild oak, Zion


Ponderosa was once home to a pioneer logging camp. Many of the old pioneer trails and roads remain and provide guests of the ranch rides through rugged, Rocky Mountain high country.