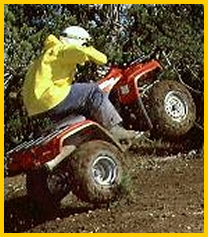 Rental/Tour Information:
Our Guided ATV Tours are designed to give both young and old a taste of modern outdoor adventure. ATV tours are included for all guests 16 and older with a valid driver's license. The certified guides of East Zion Adventures conduct all guided ATV tours at Zion Ponderosa Ranch Resort. Our ATVs have the muscle to climb high hills and cross deep streambeds. East Zion Adventures will provide all necessary gear, including: helmets, goggles, and gloves, to make the ATV rides an awesome experience in any type of weather. Your tour guide will take the time to explain all features of the ATV prior to beginning the ride. A beginners trail is required as the first ride to assess the guest's ability. Any guest that breaks ATV rules or displays reckless driving will be dismissed from further ATV rides.
ATV Rules

All ATV riders acknowledge that the activity is potentially dangerous and will hold East Zion Adventures and Zion Ponderosa Ranch Resort harmless in the event of personal injury.
All ATV riders must be at least 16 years old and must be able to show proof of age or a valid ATV license.
Single riding only, multiple riders on one ATV is forbidden.
All riders must wear a helmet at all times during the ride.
Free riding without the tour guide is forbidden.
All riders must follow the tour guide in a single file, staying back a safe distance from the rider in front of them.
Riders must take the responsibility to become aware of the features of the ATV prior to the ride, including locations of brakes, throttle, and ignitions switch.
Riders that do not follow the above rules will be required to stop the ATV tour and walk back to the resort. Riders who show reckless intent on ATV tours may also be forbidden from participating in other resort activities.
ATV riders will also be liable for any damage to vehicles caused during their ride.
10- ATV riders will be required to acknowledge their agreement and understanding to the above rules in riding prior to beginning the ride.